Powered By Olvy
Set up DocuSign on your workspace in just 2 clicks
Say goodbye to the times when it took more than 48 hours to integrate DocuSign with your SpotDraft account. To add to that, the process was highly technical and complex. We have now introduced a DocuSign right in the integrations tab. This enables you to connect your DocuSign account with SpotDraft on your own without any technical assistance. The process is now simple, blazing fast (takes less than 3 minutes) and completely self-serve.
Note: DocuSign integration needs to be enabled for your SpotDraft account by your Customer Success Manager. If you haven't done so already, reach out to your CSM.


Bug fixes 🐞:

Bug fix: Text in "Paragraph with formatting" was overflowing. Fixed

Bug fix: "Cancel" button isn't working on Edit Questionnaire flow. Fixed. As a part of this, we have removed Cancel from Create flow as it wasn't adding real value and creating confusion on what happens. Draft continues to get created once the party info has been filled out.

Enhancement: Create Variable experience in Questionnaire has been improved, Users would have to click outside to enable Create button which was unintuitive in all demos. As soon as user clicks on 'Create new variable", create button will get enabled now as long as other mandatory questions are filled.
Upload PDF Contacts for Review
Not all contracts that require review are word documents, sometimes you just receive a PDF contract that you need to get approved by the legal team. Till now you could only upload PDFs for signing on SpotDraft.
Now you can also upload your PDF contracts as third-party paper or a contract version, and get them reviewed before signing.
1-click company seal insertion
Company seals do not change frequently, so why should you re-upload the seal each time when signing a contract? Not anymore! You can now set a default seal for each entity on your workspace.
Steps for adding the default seal -
Click on the company profile dropdown button on the top right of the home screen

Navigate through to Settings > Organization > Entities.

On each entity card, a new option of 'Company Seal' will now be available.

Click on 'Upload' and select the file to be set as the default seal.
Once the above is done, whenever you sign a contract for that entity, the company seal will be inserted by clicking once on the placeholder, without you having to upload the seal each time.
Fetching location data from the browser for signature audits
Location information based on only IP addresses often could be inaccurate for several reasons. Therefore, hereon all users signing contracts on SpotDraft will be prompted to provide their consent to sharing location through their browser.
Along with the IP address, the signatories' location will be captured with greater accuracy to help you obtain all the relevant information required for security.
Bug Fixes 🐞 ✅:
Address variables show up as mandatory (*) even when they are not - Fixed

"Submit" button shows up in CP flow even when there are questions to be answered - Fixed

Text in "Paragraph with Formatting" (Rich text) fields are overflowing - Fixed

UI breaks in Define Logic section when Variable Names are too long - Fixed

Yes/No fields appears as dropdown intermittently - Fixed

Define Logic wasn't working as expected for many BE Variables - Fixed
Introducing Custom Views on the contracts grid 🤯
Having a tough time locating a set of relevant contracts and need to apply the same filter each time? We just simplified this for you! You will now be able to create custom views on the contract grid alongside the 'All', 'Ongoing', and 'Deleted' views.
You can create a new view in 2 ways

Click on the "+" button and a new view will be created.

From 'All', 'Ongoing' or any custom view, you will see a 'Duplicate' option upon clicking the overflow button.
Clicking on it will create a new view with the same facets that were applied on the view from where the duplication was triggered.

Rename and Delete views as you require.

Once a view is created, it will remain on your home screen along with the search criteria unless you delete the view.

If you add or remove certain search facets, the view is auto-saved and will retain the criteria in real time.
Slack ToDo List ✍🏼
Keeping track of your tasks and making sure they are done on time is difficult, especially with the ever growing number of contracts. With the new ToDo List feature you can see all your pending tasks in one place - right on Slack!
Just open the SpotDraft slack app and go to the Home page to see all your current pending tasks. This list is dynamic and will keep getting updated as you complete your tasks or whenever there are new tasks assigned to you.
Upload via Slack ⏫
Now you can upload contracts to your SpotDraft account from the comfort of your slack workspace.

To upload a contract from slack
Go to SpotDraft's slack app

Open the Message tab on the top left

Upload the contract as a message

Click on the three dots menu present at the right for each message

Search and select the Upload to SpotDraft shortcut

Fill in the required details and submit to upload
You will be notified when the contract has been successfully uploaded
You can also upload contracts from a channel. Add the SpotDraft app to the channel first and then use the message shortcut Upload to SpotDraft for a file to upload.
A New way to add Recipients for Contracts 🤩
We have updated how information for new recipients is collected. Now you will get a clearer and concise representation of all parties and stakeholders in a unified view.
By comparison, there is a 60% reduction in the number of clicks required for addition of 1 signatory each for both parties.
Key changes -
Consolidated view of users grouped by organization.

Simplified button bar for selection of role type. You do not need to open a drop down each time to select different roles of Approver/Signatory/Receiver.

You can now undo a 'Delete' action so you don't have to re-enter all details again in case of accidental deletion.

If there are multiple entities for your organization, the entity name selected will be displayed.
Improved formatting options on DraftMate
In addition to formatting Short Answer and Number fields, you can now format Date and Monetary (Currency) fields directly from DraftMate.
To format any Monetary (Currency) fields, you can choose the format in which the symbol should appear (Eg. USD vs $), show it in words ( Eg. US Dollar One), and also decide the precision by picking the number of decimal values you want to show. (Eg. $ 121.23 vs $ 121.228)
To format any Date field, select "Insert Simple Variable" and pick a Variable of type Date (Eg. Effective Date). You will now see new options to pick the format in which you want to display the date. Simply select the format in which you'd like the date to be rendered, check the preview and click on "Insert Variable".
Draftmate Upgrades
SSO support: You will now see a "Login with SpotDraft" on the DraftMate word add-in. In just two clicks, you will be able to securely log in to your DraftMate through a log in method of your choice.

Template Testing Module: You no longer have to create a new workflow to test out the templates. From the Contract Type->Templates page in settings, you will find an option to "Test" a template. You can answer questionnaires for Your Company and CP, and preview contracts. No drafts would be created for this.
Note: Party Info cannot be added or tested here yet. We will be adding this next
Editing Variable Types: You can now edit the variable types associated with a question on demand. Please note - we will not allow you to make these edits if there are other questions whose logic is dependent on the original variable.
Configurable Date Formatter
You can now assign specific date formats for their different entities from the contract settings page. This date format will be applicable on template date fields and signature fields.

You can watch the full video of the end-to-end flow here.
Report Generation Improvements
With the latest set of improvements, you will be able to see the tags associated with the contract on any contract reports downloaded from the workspace. You can also go on to assign tags to contracts while uploading contracts via the Document Upload flow.

You can watch the full video of the flow here.
Access Control Changes
Admin users will no longer have all access by default for any given contract type. This will ensure that more sensitive documents such as Employment Agreements, Shareholders certificates etc. will not be made available to the an admin user by default. Please note - the creator role is still going to be a compulsory role that needs to be set for any contract type.



A Native SFDC integration
SpotDraft had always supported an SFDC integration but we went ahead and revamped the entire integration to make it far more intuitive for the Sales user to create contracts and request reviews from the legal team.
With a click of a few button, you can:
Send contracts directly to the counterparty for review and signatures

Send contracts to your legal team for review

Upload third-party contracts or redlined versions from the counterparty

Monitor the status of contracts associated with an opportunity
Using Salesforce and want to learn how this works? Talk to your CSM to set up a demo.
Linking to Salesforce Opportunities
As a continuation of our Salesforce integration, we have also built the ability for users to link an existing contract to a Salesforce opportunity.
Switching between documents and applications to find the data needed can be a hassle while drafting a contract. With SpotDraft's 'Link to Salesforce' feature, you can now link an opportunity to a contract and fetch all the necessary information for reference. The account and opportunity information pulled from Salesforce is completely configurable to your requirements.
This is specifically built for the use case where the person reviewing the contract may need to pull specific pieces of information from a given Salesforce opportunity.
Revamped Integrations Page + New Integrations
SpotDraft's list of out-of-the-box integrations is growing along with its capability to be set up easier and faster! To give more power to our customers, we have revamped our suite of integrations to be intuitive and self-serve. You can now set up a Google Drive integration in 10 minutes, a Salesforce integration in 30 minutes, a Jira integration in 15 minutes, and many more.
Activity Log + Summary Page Redesign
The new summary page now offers a much more user friendly activity log to help you stay up-to-date with the what is happening on your contract. You can also communicate effectively with your team members without having to leave SpotDraft, using the message feature in the new activity log. Just mention your team members in the message and they receive an email and slack notification.
This redesign was done to create a more collaborative space for your contracts. You can now easily navigate and find what you need using the two tabs- Summary and Manage without getting overwhelmed by all the information all at once.
This feature is being rolled out gradually to all our existing customers. Please reach out to your CSM in case you want to get it sooner.
Self-serve Template Creation
You can now set up and manage templates on SpotDraft on your own.
Easily prepare your template document using SpotDraft's no-code Word add-in "DraftMate". Open up the document you want to templatize, fire up DraftMate and prepare your document with a few clicks.
Then create the Contract Input Form using the easy-to-use Questionnaire Builder. Once you are ready, you can publish the template, gather responses for the questionnaire and generate contracts from the template.
Campaigns: Sending Contracts in Bulk
We know that some of you may need to send out multiple standard contracts for execution in one go. Be it a change in your company ESOP policy or having to get your contractors to agree to a new set of terms and conditions, you can use our new feature — Campaigns — to get agreements executed with the concerned parties in a fraction of the time.
The process is simple and straightforward. All you have to do is upload an excel sheet with the counterparty details and contract information and SpotDraft generates the relevant contracts and sends it out to your counterparties.
You can also keep track of who has signed and who needs follow ups directly on the platform. You can watch the full video of the end-to-end flow to Campaign Workflow E2E here.
Stamp Paper Support
Our partners from India are going to be excited here!
Procuring stamps can be a time-consuming process, sometimes spanning several weeks. From ordering stamps to managing them over email, and affixing each stamp to the right contract before it can be signed - we know that this is an extremely manual and time consuming process.
With SpotDraft's new E-stamp Plus feature, you can instantly place an order for a stamp which gets automatically affixed to the contract.
SpotDraft Embedded Edition
You can now seamlessly embed SpotDraft's e-signature experience within your own website or application. This is specifically useful in situations you need people to sign a contract as a part of a flow within your app.

The entire functionality runs on our robust set of public APIs, and can be setup in 2 simple steps. First, send a API request to SpotDraft so we can create a contract from a template. This can include any information that needs to be populated within the contract. Second, use our embedded API to retrieve a link which in turn can be used to render the signing experience. Yes, it really is that simple!
Here is a video outlining the full flow and here are the public APIs that you can use to enable the embedded edition.
Search + Grid improvements
Similar to previous months, we have made a few improvements to search and the grid on SpotDraft. You can now differentiate contracts between your various organization contracting entities using the Entity filter. Here is a video showing how you can do it.
Additionally, the Last Updated Column is now optional in the ongoing tab in the contract grid.
Other Improvements
Apart from these big improvements that were released in April, here are some of the smaller changes that we also shipped out.
Allowing for the template names to be configured via settings

Allowing users to reply to a comment on Slack

Preserving formatting while adding a clause to the clause library

Signing Improvements: You can also now see where the placeholders for where the other party would need to sign

Allowing for the brand name to be edited from the Summary Page

Showing the name and timestamp below every signature

Allowing for signatures to be collected across multiple pages in one go
New superpowers added to our Editor
We want to make it as seamless as possible for you to review contracts on our Editor. To aid with this, we've made the following improvements:
Comments resolved on Microsoft Word are now seamlessly integrated with our platform. If a comment is resolved on Word, it can be found under the Resolved filter after the document is uploaded onto the platform.

The text within the comment box now supports hyperlinks. Simply add a URL as part of the comment text, click enter, and voila - your link will appear!


Setup your own Clause Library!
Users with the relevant permissions can now set up and manage a Clause Library on their workspace. If it is enabled on your account, you can find the option to access the Clause library under Settings. Here you can find a list of all clauses, as well as perform certain actions such as adding and deleting a clause.
Seamlessly create and view contract relationships from the Grid
Users can now relate contracts from the grid by either selecting the overflow alongside a contract or through the action button at the top. Users also have an option to see related documents as part of the Grid columns as well.
Additional updates
We've also included the following updates as part of this release:
Users can now un-mark a template contract for execution.

When marking a draft for execution, if you miss out on placeholders, like '[Contract Execution Date]', we will remind you to remove these before you prepare for signing!
Multiple File Uploads
Ever had to create a new contract from an external paper and at the same time had to sign another contract?
We've got you covered! You will now be able to upload multiple files simultaneously onto SpotDraft, so you do not have to worry about uploading documents separately each time.
Single Click Signatures and Initials
Now you can set your default signature and initials on your SpotDraft user profile after which you can sign or add initials to all contracts with just one click!
Introducing Clause Library
It's here! You no longer need to scrape through a bunch of documents, copy, paste, and modify clauses when creating a new contract. You will now be able to create, store and reuse clauses frequently used by you and your team on a click of button.
Approvals Just Got Revamped
We heard your feedback, and these are the improvements we are making to approvals on SpotDraft:
Approvals will work with all your contracts, whether third-party or uploaded just for signing.

Key contract actions such as sending or downloading a contract can be restricted if needed.

A more detailed approvals card to help you track the status of your approvals.

Approvers can now suggest changes instead of directly approving or rejecting a contract.
Lastly, you can also create and collect approvals on-demand Ad-hoc Approvals.
Introducing Key Pointer Search
It's finally here! You can now filter contracts based on the key pointers set on the contract.
Improvements to Historical Contracts
We have launched the Contract Summary Page for historical contracts, bringing it to feature parity with contracts created on SpotDraft.
With this improvement, you can also:
Define relationships between these historical contracts using our Related Contracts feature.

Add colleagues to collaborate on the contract using the Invite Team option.
A new and improved advanced search!
Being able to use multiple filters when performing an advanced search on SpotDraft was vital feedback we got from you, and we decided to promptly implement it.
To provide this flexibility, we've created a multi-faceted experience when you search for the next set of contracts on SpotDraft!
Our new intuitive search feature makes sifting through contracts a breeze by enabling you to apply multiple filters to your search, such as two or more counterparties, business users, contract types, and much more! You can also glance at all applied filters in a selection pane.
Now spend less time on repetitive and redundant searches, and more time on analyzing and acting on contracts when using SpotDraft!
P.S: Soon, you will be able to search by using key pointers via search filters as well. More on this later!
Identify counterparties by brand names
Identifying counterparties by their legal names can sometimes be tedious and non-intuitive. We understand that pain point and have introduced the option to add the counterparty's brand name, making them identifiable and easy to find on SpotDraft.
You can search using the brand name or add it as a new column to contract repository dashboard. All you need to do is specify the brand name when inviting a new counterparty or simply update existing counterparty details via "Counterparty settings".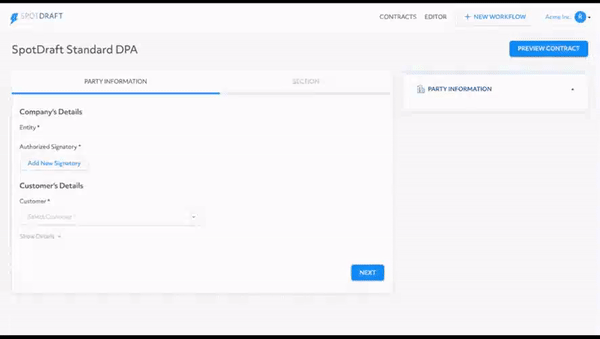 Additional recipients and notes while preparing for signatures
We are aware of the need for a contract to be approved before collecting signatures or sending the signed copy of a contract to more recipients with notes to give them quick context about the contract.
To solve this, we have introduced additional roles as part of the signing workflow. These roles include:
Approvers - Need to provide an approval before signatories can add signatures.

Receivers - Receive a copy of the signed contract via email once the contract has been executed.
Although we did support this function before, we have now made significant improvements to the UX, allowing seamless integration of these roles with our prepare for signatures workflow.
Users can now also add a custom note for each recipient which will be visible as part of the email to sign, approve, or receive a copy.
Update the entity of a contract with ease
We have also made the process of changing the legal entity for a contract much easier in case the incorrect entity has been selected during draft creation.
It's just three easy steps:
Click on the 'Edit' button on the 'Party Information' card.

Select the applicable entity and choose whether the signatory needs to be updated.

Add notes to help your team be informed about the context of this change.
As always, you can email us any feedback or pictures of your dogs at team@spotdraft.com